Dead Sea mud and Canadian glacial clay partner to create a revitalizing weekly treatment that deep cleans pores, exfoliates dead skin cells, and nourishes with minerals. Skin looks visibly smooth, firm, and radiant. Highly recommended for people with acne-prone skin. 
Benefits:
Deep cleans skin with ultra-fine clays

Provides intense exfoliation to clarify and refine pores

Maintains hydration keeping skin plump and radiant

Provides mineral nourishment to balance and revive skin
Key Ingredients: 
Dead Sea Mud-

The mud found at the bottom of the Dead Sea, the most saline sea in the world (8.6 times saltier than ocean water), 

has been used for thousands of years in health and beauty treatments.

 It consists of a green clay (similar to French clay) suspended in 

sea water with ultra-fine particles that create a smooth, creamy texture. Clay has the powerful ability to draw impurities out of skin while creating a deep exfoliation of dead skin cells. Mineral oxides give it its rich green colour and helps to balance skin's flora. The salt contains high levels of magnesium to nourish skin and maintain hydration.  Dead Sea mud has been used for thousands of years in health and beauty treatments. 

Glacial Marine Clay-

Our mineral-rich glacial marine clay is sustainably harvested from the Pacific Ocean in British Colombia. Sourced from the sediment that runs off a  live glacier, it 

is dried and processed into tiny particles that penetrate deep into pores and

 draw impurities out of skin. When the clay is wet it swells in size and as it dries on skin, it tightens and exfoliates.
Skin Types: All skin types, acne-prone
Smells Like:  Floral aquatic
Packaging: Glass jar 
Size: 100 g/3.3 fl oz
Instructions: Apply to moistened face, avoiding eye area and lips. Allow to dry until it has turned a light green colour. Remove very gently with lukewarm water and follow with your regular routine. Use once per week, avoiding eye area. Do not use an exfoliating product on the same day.  Shake jar before use.
Ingredients: Dead sea mud, glacial marine clay, neroli essential oil, rose absolute.

✔ 100% Plant-based 
✔ Vegan 
✔ Cruelty free
✔ Biodegradable 
✔ Safe & Non-toxic
✔ Nut-free
✔ Gluten-free
✗ Parabens
✗ Formaldehyde-releasers 
✗ Petroleum
✗ Phthalates
✗ Artificial aromas or fragrances
✗ Dyes
✗ EDTA, BHA or BHT
Related Products
---
Customer Reviews
05/11/2020
Kailey D.
Canada
Ancient mud facial mask
Leaves skin feeling soft and rejuvenated. I exfoliate certain areas really gently after I rinse off and then apply moisturizer and find this leaves my face feeling super silky. Such a nice weekly ritual and love the high natural quality.
04/28/2020
Megan H.
Canada
Great mask!
Love this mask - easy to apply & easy to remove. Skin feels super soft & moisturized for days afterwards!
04/15/2020
Virginia
Canada
My favorite!
This mask has been part of my daily routine for some years now. I use it once in a week and my skin had never looked better. Simple ingredients, not tested on animals and great price too!
Won't buy anything else.
This place is so small, but still dangerous. Every time I go in, there are new exciting products that I actually want. I've tried lots of local beauty product manufacturers and this is the only one that faithfully go back to. I especially love their refill program. Their beautiful glass bottles can be returned for a new, full bottle at a discounted price. Love it.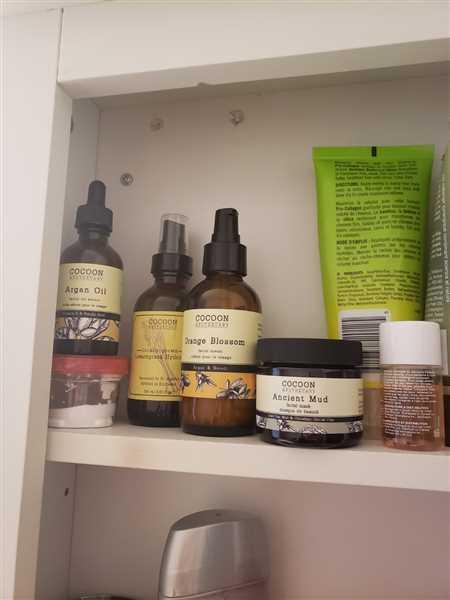 04/07/2020
Lee D.
Canada
just what i needed, left
just what i needed, left my face feeling amazing