Oily Skin
Reflector SPF 30 Facial Sun Protection
---
A mineral facial sunscreen with SPF 30 that will provide broad spectrum protection for your face without irritating your skin. Zinc and titanium act like tiny mirrors that reflect sun rays off your face rather than creating a chemical reaction on your skin. This non-greasy formula goes on easily and doubles as a light moisturizer. Packed with nourishing natural ingredients that help keep skin healthy and balanced. No break outs!

Skin Type: All skin types 
Smells Like: Unscented
Packaging: Glass bottle with pump
Size: 60 mL/2 fl oz
Benefits:
Light formula that won't clog pores or irritate the skin
Broad spectrum protection from UVA/UVB rays
Contains natural ingredients with skin healthy antioxidants and fatty acids
Reef/water safe
Key Ingredients: 
Zinc Oxide and Titanium Dioxide - Naturally occurring minerals that work like tiny mirrors to deflect UV rays off skin. Gentle and cooling.

Sea Buckthorn Seed Oil and Pulp Extract  – Contains high levels of carotenes to protect skin cells from sun damage as well as soothing essential fatty acids and phytosterols that support collagen production.

Shea Butter – Creates a soft, breathable barrier on the skin that moisturizes and prevents water loss. Contains pro-aging vitamins E and A.
Medicinal Ingredients: Titanium dioxide 9%, zinc oxide 6%.
Non-Medicinal Ingredients: Shea butter, rice bran oil, buriti oil, oleoresin rosemary, sea buckthorn seed oil, polyglyceryl-6 distearate, glyceryl stearate SE, candelilla wax, glycerine, xanthan gum, resveratrol, potassium sorbate, purified water, aloe juice, ascorbic acid, tapioca, benzyl alcohol, salicylic acid, sorbic acid, olive leaf extract, turmeric root extract, calendula, ginkgo biloba, aluminum hydroxide, lauric acid, triethoxycaprylylsilane.
Instructions: Apply generously (and evenly) 15 minutes before sun exposure. Re-apply at least every 2 hours. For use on children less than 6 months of age, consult a health care practitioner. Use a water resistant sunscreen if swimming or sweating.
pH Balance - 7
Related Products
---
Customer Reviews
Write a Review
Ask a Question
02/03/2021
Tanya V.

Canada
Best sunscreen ever
I absolutely love this chemical free all natural sunscreen. It gives a matte finish after it absorbs into the face. My new favorite go to after applying my other cocoon apothercary skincare products. Legit hands down to the best natural skincare ever!
01/25/2021
Samara G.

Canada
No breakouts!
This is my favourite natural sunscreen, and I have tried like every natural sunscreen there is lol. It is a little thick so I mix it with my moisturizer but it never breaks me out so it is well worth it! I also like that it has ingredients I can appreciate.
01/22/2021
Barbra R.

Canada
Sun protection
It feels really nice and light on my face. We haven't had much sunshine so difficult to judge how it protects. Virtually no smell which I love.
11/25/2020
Melanie R.

Canada
Great facial sunscreen!
I love that this suncreen is full of plant based ingredients that are nourishing to the skin. Only a very thin opaque layer goes on very smoothly to provide the UV protection for my skin. Highly recommend!!
11/24/2020
Layla

Canada
Overall good product
I love this product and this brand! It does leave a light white cast on the skin so if you really want a sunscreen that doesn't do that I wouldn't recommend purchasing this product. I dont recommend mixing it with moisturizer or any other product before applying to the face because that would affect the way that it protects your skin. I use it on my face after my skincare routine and it works great! I really appreciate the packaging and the little note. I keep all the packaging from my orders and reuse it to offer presents.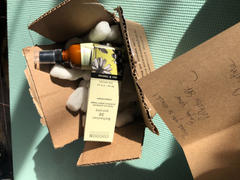 11/01/2020
Samantha T.

Canada
SPF 30
The texture feels like clay, not a nice feel on the face. Quite thick.
10/30/2020
Maggie R.

Canada
Best natural sunscreen!
I was in the market for a natural sunscreen that was gentle on my sensitive skin and I'm so happy I decided to try this product. I layer it over the Rosehip Oil, which I've been using for a while, as part of my morning routine. It absorbs quickly, it's not greasy, and my skin loves it!
10/06/2020
Annie L.

Canada
Good Protection!
This is my second time to purchase this Sun Protection,and I got two this time! I love it! A little bit tint and non greasy on my skin!
10/04/2020
MELISSA M.

Canada
Great to support a local business with beautiful products.
I have been curious about Cocoon Apothecary products and been looking for a clean beauty regime and came across this website. So I decided to take my chance and order the sunscreen along with the Nordic Serum and I'm so glad I did. This is a great sunscreen, not smelly and not too thick. I put it on in the mornings alongside the serum and moisturizer and it does the trick for me. Happy skin, Happy Me A little goes a long way.!
09/28/2020
Bo J.

Canada
Great mineral sunscreen
I really like it goes on matte, it is moisturizing but not oily, it is matte but not dry my skin. It has the perfect tint to bright my skin, some people may consider it white cast, but I think it bright my skin, and looks natural. Best mineral sunscreen I ever used, it has everything I wanted from a sunscreen
09/28/2020
Rebecca M.

Canada
A favourite
I always buy this sunscreen every summer! My sensitive skin doesn't break out with this one. :)
07/17/2020
Jenny .

Canada
Favourite face sunscreen
I have tried many different facial sunscreens, and have finally stopped searching for "better" ones. This is the best one by far amongst both physical and chemical sunscreens (I prefer physical sunscreens). The consistency is perfect, goes on smoothly and does not leave a white cast once you blend it in. Other sunscreens will leave me oily in a couple hours, but this one feels perfectly lightweight and breathable, and my skin stays matte all day. Plus, this wears beautifully under make up. Got my whole family hooked on it :)
07/14/2020
Caroline B.

Canada
Good sunscreen
This shipped very quickly and the bottle and packaging are very attractive. As to be expected with mineral based products, it is a bit thick and I find I have to use moisturizer before applying the sunscreen. It does have a white cast upon initial application but this does diminish fairly quickly. I have found it to be effective. I would suggest washing face before reapplying if you are outside all day as it can feel heavy on skin with too many reapplications. I would purchase this product again.
07/09/2020
Shaylyn A.

Canada
The best face sunscreen!
I absolutely love it. The only thing that works for my very pale skin that hates the sun! The only thing I wish is that they had a full body sunscreen of the same/similar formula, but perhaps maybe an SPF 50! Obsessed!
07/06/2020
laritza c.

Canada
Very happy With my products
this is my third purchase of your products. Im very satisfied of them. Great quality and they're perfect to my skin. Thanks a lot
06/22/2020
Lynn D.

Canada
Fantastic Sunscreen
This is the best facial sunscreen I have ever used. It goes on smoothly, feels light on my skin, and it isn't greasy. Reflector does not irritate my sensitive skin or clog up my pores, and it provides great, lasting protection from the sun. It's another great product from Cocoon Apothecary!
06/22/2020
Linda M.

Canada
A little goes a long way
I love this product. I find that 1 pump covers my entire face. It is odourless and doesn't leave my face feeling greasy. I will definitely buy this product again.
RP
06/16/2020
Rosslyn P.

Canada
Natural Sun Protection
I am still using this product. It is very gentle on my skin, and seems to offer a good level of protection from the sun. As I have fair skin, I also wear a hat for added protection.
06/16/2020
Tita K.

Canada
Love it!
The facial sunscreen is amazing! Good for my outdoor jogs and just being in the sun!
06/16/2020
Amanda A.

Canada
Great Non Greasy Natural ingredient SPF with no ashy residue
The ongoing issues I have had when using natural ingredient sunscreens is the ashy white haze left on my medium tan skin even after rubbing it in, and greasiness. I have combination facial skin . This product it lightly tinted but also absorbs readily into my skin without greasiness . My skin also feels softer after removing it at the end of the day ( after washing but before applying additionaly moisturizer). The best experience I've had so far with natural sunscreen.