Petal Purity Milk Cleanser
---
A 100% plant-based milk cleanser that removes oils, dirt, and make-up without stripping the skin of essential hydration. A gentle formula containing lavender and geranium to keep skin cleansed and balanced. The organic oils of virgin coconut and sweet almond help to remove pollutants, leaving skin dewy-fresh and tingly-clean.

Skin Type:  Normal to dry
Smells Like: Lavender and geranium
Packaging: Glass bottle with pump
Benefits:
Deep cleans and purifies without harming the skin's natural barrier

Gently removes makeup and doesn't sting eyes

Essential oils help cleanse and balance skin
Key Ingredients:
Virgin Coconut Oil –  Contains caprylic, capric, and lauric acids, which are medium chain triglycerides (MCTs) that support elasticity while moisturizing and softening skin.

Sweet Almond Oil – A light nourishing oil heavy in vitamin E, squalene, glycosides, and beta-sitosterol. Soothing fatty acids oleic and linoleic protect the skin and create a thin film that retains moisture.

Lavender Essential Oil - Linalool and linalyl acetate combine to create soothing properties to calm redness and irritation due to dry skin.
Ingredients: Purified water, sweet almond oil*, virgin coconut oil*, cetearyl alcohol, stearic acid, vegetable glycerin, geranium essential oil*, lavender essential oil*, sodium anisate, sodium levulinate, sodium cetearyl sulfate, vitamin E, glyceryl caprylate.
*certified organic
Instructions: Apply to dry or wet skin in a circular motion and remove with water. Use morning and night.
Also available in a trial size in our Skin Care Starter Kit. 
pH Balance - 5.5

Related Products
---
Customer Reviews
Write a Review
Ask a Question
05/21/2021
Linda C.

Canada
05/20/2021
Chris L.

Canada
Love these products
I have been using petal purity and roses cheeks for about 7-8 years now I think and love them. Light, non greasy feeling with a lovely soft scent. I also use the petal purity exfoliate a few times a month. It is gentle and non abrasive. I feel that my 56 year old skin looks pretty darn good! Now also the reflector sunscreen is being used daily. It has lasted a long time! I am very pleased with all the products and the fast delivery service!!
05/05/2021
Eshe V.

Canada
Great product
My skin feels so smooth after using this product! It also smells wonderful.
04/07/2021
Jourdan P.

Canada
Love this cleanser
Love cocoon products and particularly love this cleanser. Highly recommend.
03/19/2021
Wendy D.

Canada
Love Petal Purity
I'm so impressed with Cocoon Apothecary for their products, chemical-free ingredients, eco-friendly packaging and Canadian !!! I was recently introduced to these products when I complimented a women's glowing, fresh looking complexion. She explained that she used to have troubled skin with acne and now her complexion is wonderful after using Cocoon Apothecary. Sure enough, I began using Petal Purity, Rose Dew, and Rosey Cheeks and my skin is the best it's ever been. I love these products!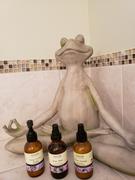 02/03/2021
Cynthia M.

Canada
Keeps skin moist
I usually use a foaming wash so the milk cleanser took a bit of getting used to. Doesn't leave my face feeling dry which is great. Doesn't always get all my makeup off - sometimes a bit more comes off with my toner.
01/13/2021
Dayna B.

Canada
01/12/2021
Erica A.

Canada
best cleanser EVER
I have combination skin and a lot of forehead acne. Within a week I saw an amazing difference in my skin. Cannot begin to explain how much I love this product. I will never use another cleanser!
01/06/2021
Beverly C.

Canada
Great products and service
I would definitely recommend the Rosey Cheeks Facial Cream. A small amount goes a long way and keeps my skin soft and supple.
12/25/2020
Monica N.

Canada
Gentle Cleanser
I love the gentleness of this cleanser. It doesn't strip your skin's moisture. No foaming agents either!
11/17/2020
Patricia S.

Canada
Petal purity cleanser
Love this product. Cleanses thoroughly, rinses well, leaves skin soft.
11/08/2020
Dayna

Canada
Love it!!
I have only been using the cleanser for less then a week and I can see a difference in my skin. I usually use foaming cleansers but I am in love with the texture. The smell is unique but in a good way. Doesn't dry out my skin which is a huge plus I'll be a regular customer forsure
11/01/2020
Samantha T.

Canada
Petal purity
Nice milky texture and gentle cleanser but isn't great at removing eye makeup.
10/30/2020
Miriam T.

Canada
Very nice product
This is a very nice product, I highly recommend. Works well, leaves skin clean, soft and moisturized. Unique smell, I like it very much. Great buy!
10/29/2020
Meredith G.

Canada
Amazing Product
This leaves my skin feeling so clean and hydrated.
09/25/2020
Cara P.

Canada
Love this cleanser!
I have been using this cleanser for years, and will never stray! It's absolutely beautiful! Leaves my skin feeling amazingly clean and hydrated, one of the many Cocoon products I love and will continue to use for many many more years to come ♥️
09/17/2020
Stephanie C.

Canada
Love love love!
The only cleaner I've used in years. Thanks so much, I just love it! :)
09/14/2020
Simone N.

Canada
The good stuff
Have been using this for years. We have excema and rosacea in our family, as well as dry skin. This cleanser is gentle and effective. My skin is in great shape.
09/03/2020
Fathalla

Canada
In love with this product
I have been using many different brands and expensive products for years but nothing compares to the Cocoon brand. My skin feels amazing youthful and young. The product is so gentle on the skin with an amazing scent and leaves skin feeling so soft and silky. I do see great results and I am planning to use Cocoon brand for many years to come, saying goodbye to my other skincare brands and saving myself hundreds of dollars and looking my best. I am sure my skin is saying thank you too. I am in my 40's and my aim is fighting signs of aging; Cocoon products has met my needs 100%.
08/22/2020
Rosella L.

Canada
Can't be without this cleanser!
Have used this for years and still love it.