Skin Care Set for Normal to Dry Skin - Full Sized
---
Buy the set and save $8
PETAL PURITY FACIAL CLEANSER
A 100% plant-based cream cleanser that removes oils, dirt and make-up without stripping skin of essential hydration. A gentle formula containing the purifying extracts of organic lavender and geranium to keep skin cleansed and balanced. The organic oils of virgin coconut and sweet almond help to remove pollutants leaving skin dewy-fresh and tingly-clean. Great for all skin types including sensitive.
Ingredients: Purified water, organic sweet almond oil*, virgin coconut oil*, cetearyl alcohol, stearic acid, vegetable glycerin, geranium essential oil*, lavender essential oil*, sodium anisate , sodium levulinate, sodium cetearyl sulfate, tocopherol, glyceryl caprylate.
Instructions: Apply to dry or damp skin and massage in circular motion to entire face. Remove with cotton ball or water.
Size: 100 mL/3.3 fl oz
pH Balance - 5.5

ROSE DEW FACIAL TONER
A 100% organic, alcohol-free toner that delivers powerful antioxidants and astringents to tighten up pores and prepare skin for moisturizing. Certified organic rose hydrosol (water) creates a purifying formula used for centuries as a beauty tonic. Delivers botanical hydration to skin before it gets locked in by a moisturizer. Can also be used with a cotton ball to lightly clean face or remove excess debris after cleansing. Use morning and evening after cleansing and before moisturizing. Great for normal, dry and sensitive skin types.
Ingredients: Certified organic rose hydrosol
Instructions: Spritz on clean, dry skin and allow to dry OR spritz on cotton ball and apply to entire face.
Size: 100 mL/3.3 fl oz
pH Balance - 5

ROSEY CHEEKS FACIAL CREAM
A 100% plant-based facial cream that harnesses the therapeutic power of nature to soften, nourish, and rejuvenate skin. Made with organic oils carefully chosen for their extraordinary ability to keep skin smooth, firm and glowy. Organic rosehip oil, pressed from the seeds of the rose bush, is known for its ability to regenerate skin, minimizing fine lines, scars and reversing sun damage. Avocado penetrates deep into the layers of the skin to smooth and soften its appearance. Organic camellia oil, extracted from the tea plant, contains antioxidant polyphenols to fight free radical damage and inflammation. Organic shea butter softens and protects skin, locking in moisture to keep skin plumped up and hydrated. The pure essential oil of rose, extracted from the petals of the flower, creates a beautiful scent that delivers skin-firming antioxidants. Vegan, non-toxic and biodegradable in an eco-friendly glass bottle.
Ingredients: Purified water, rosehip oil*, avocado oil*, camellia (green tea) oil*, shea butter*, cetearyl alcohol, stearic acid, vegetable glycerin, sodium anisate, sodium levulinate, rose absolute, sodium cetearyl sulfate, tocopherol, glyceryl caprylate.
*certified organic
Instructions: Apply to clean, dry skin in the morning and evening. 
Size: 100 mL/3.3 fl oz
pH Balance - 5

✔ 100% Plant-based
✔ Vegan
✔ Cruelty free
✔ Biodegradable
✔ Safe & Non-toxic
✔ Gluten-free
✗ Parabens
✗ Formaldehyde-releasers 
✗ Petroleum
✗ Phthalates
✗ Artificial aromas or fragrances
✗ Dyes
✗ EDTA, BHA or BHT
Related Products
---
Customer Reviews
Write a Review
Ask a Question
06/02/2020
Holly C.
Canada
Great
Great product! VERY fast shipping!
06/02/2020
Angela C.
Canada
First time user
I really like the smell and texture of the products, but I do feel that I could more moisture from the daily moisturizer.
05/15/2020
Melanie P.
Canada
So luxurious
I really love the sent and the luxurious creaminess of the product
05/09/2020
Anna G.
Canada
Excellent!
I love this skin care set! So far, I used it only once to try it (I'm using up my current skin care products), and I really liked how it made my skin look and feel. My husband even commented that my complexion looks brighter.
05/06/2020
Stéphanie P.
Canada
5 starts
Most definitely. Thank you
05/05/2020
Shanna A.
Canada
Lovely Products
I'm loving everything about them. The cleansing milk may be my new favourite.
05/04/2020
Stephanie B.
Canada
Love!
Love the products, the smell is amazing! My skin is feeling well nourished.
01/15/2020
Jamie R.
Canada
Amazingly effective and gentle
I've been using the Rose Petal skin care set along with the Nordic serum and my skin has been so soft and clear. I'm in love!
Locally made, ethically sources and beautiful results!
I did some research into quite a few beauty companies before finding cocoon. If the rose dew and the rose moisturizer weren't enough to sell me, the toxin free, vegan friendly, pulled me in even more. The fact that they're local is really the icing on the cake! My poor cheeks have been dry all winter, not anymore!! Thank you cocoon!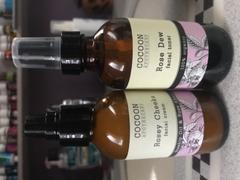 Love it
Love the light scent. Use toner, moisturizer and soaps regularly and just started using the cleanser. Prices are super affordable and a little goes a long way
Very happy customer
I have dehydrated, sensitive skin which tends to break out if products are too harsh. This set has calmed my skin down considerably. I've been using it for about a month now, and my skin is clear and moisturized. Can't ask for more than that!
Awesome Kit
This kit is wonderful. The cleanser smells lovely and cleanses my skin throughly, the toner is light and refreshing but by far my favourite is the rosey cheeks moisturizer. I love the smell and how it makes my skin feel and look. My skin looks better and better since using these products. I have combination skin and acne and I have never found any other skincare line that has improved my skin this much. Thank you for making these wonderful safe products!!
Mini Facial Every Day!!
I love the smell of the cleanser so much. A spritz of the toner is immediately absorbed by my parched skin. Finally, a bouquet of roses moisturizers my skin. I love my new skin care regime.
pure luxury
As a tired Mummy who has little time for a proper beauty regime, I love this set. I noticed a difference in my skin vitality almost immediately. Already on my second set and loving it!
In Love!!!!
After using these products for only a few short weeks, I must say I am very impressed. My blackheads are less prominent and my skin is so much smoother. I have had difficulty finding a moisturizer that keeps my skin hydrated all day, but after using the Rosy Cheeks moisturizer, I have found that is no longer the case. Thank you, Cocoon Apothecary for creating such beautiful and most importantly safe products!
love this product
I had exema and other products made it worse. This product is wonderful. Love the smell.
Good organic products
While I was overall happy with this skincare set, I found that I had to use quite a bit of product when I was removing my makeup (and my makeup is organic as well). My skin did feel great, I just felt like I had to use quite a bit of product to get there. Overall it was good though.
Good results
So far I have seen great results. Nothing extraordinary, but my acne has definitely cleared up more using these products than with any of the other 20 or so skin care lines I have tried. I use a microfiber cloth to get the makeup off my face before I use the cleanser, because I noticed the cleanser wasn't removing makeup by itself. The toner is great, and I will be buying it again for sure. The moisturizer is also good, I just find you need to be careful not to use too much or else it leaves a layer on your skin.
Luxurious, effective, makes my skin glow!
I won't go back to any other skin care line now that I've found Cocoon Apothecary. After two weeks of using these products, my skin is soft, clear and glowing. No more acne or dry patches. Old scars are fading and I swear the fine lines around my eyes are disappearing. Not only are the products effective but I love to support this stellar company for their commitment to the environment (safe ingredients, glass packaging), animals (cruelty-free) without compromising on the quality of the products.
Love this line
So I have only been using these products for 2 days and I never write product reviews but am SO happy with the results I really wanted to say how much I love this line. As someone who has struggled with problem combination skin that is dry but also having adult acne (sometimes cystic) I have been a "product junkie" for years while I try to find something that works. I have had no budget when it comes to my skin care. I was willing to pay whatever it took to clear up my skin which sometimes meant spending $500 on a skin care line, which didn't work. Often I went through a period of one month where my skin would react to these new "miracle products" that were promised to help. After only 2 days of using this line day and night I have noticed that I have had zero new breakouts, my pores are smaller, skin feels tighter and my acne scaring is improving to the point where I almost don't need to wear a foundation (which I have never been able to do in years). I purchased the Rose Hip oil, the Acne Treatment and the Argan oil and use all the products. The acne treatment is the only treatment that I have every used that actually works overnight. I am so thrilled with the results of these products and really hope that I will continue to see an improvement in my skin. I only wish I had of taken before pictures so I could show the difference. But honestly I don't think I would have dared take a picture of my skin without makeup before using these products!